Description
Diamond 3 Watt LED Torch is one of the best LED Torch in the segment of 1KM Range Torch Light. It gives a very bright spot light in very high range approximately 1.5 KM.
LED torches are made in different Sizes and Varieties. So, it is designed in various models that provide ranges according to the purposes which is very important for a buyer to know which one is needed as per the usage. Mostly torches are used in exploring in dark, rescuing, camping, hiking, fishing, security, faming and may be many more ways.
| Model Name | Diamond 3 Watt LED Rechargeable Torch |
| --- | --- |
| Model Number | DT-3W |
| LED | 3 Watt Ultra Bright Long Range LED |
| Spot Light Range | 1500 Meters (1.5 KM) |
| LED Life | 100,000 Hours |
| Transformer | 9.0.9 750mAh |
| Battery | 6v 4500mAh Dry Battery (Maintenance Free) |
| Charging Period | 10 Hours For Full Recharge |
| Battery Backup | 25 Hours After Fully Charged |
| Battery Recycles | 500 Times |
| Self Discharge | 3 Months (Protection Period) |
| Circuit Guarantee | 12 Months |
| Battery Guarantee | 6 Months |
High Range
Our fully automatic rechargeable system of Diamond 3 Watt LED Rechargeable Torch gives high range of 1.5 KM and it gives bright spot light in high range. This function is not possible in every batteries.
Power Saving
The benefit of LED is that it is 90% power saving and its the best invention of the technology that brings revolution to the innovation. It is trustworthy because of its best quality.
Design
It is designed by keeping in mind about the quality and also about the use that is done amongst people in house as well as for those who use it for outside purposes.
Multipurpose
People mostly look for multipurpose use and so this torch never lets people to think even once to replace it with any other torch. It can be used in both the ways. Diamond 3 Watt LED Rechargeable Torch is so adjustable that you won't find any difficulty to use it. This innovative battery is designed by keeping all the people's demand and uses with proper care and is made fully recharged.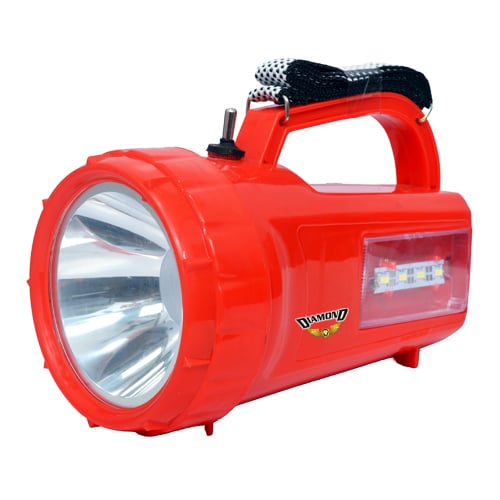 Long Duration Battery
It's battery carries a long duration of about 25 hours of light once you fully charge it so there's no need of wasting time by placing the torch in charging frequently and get your work delayed. It's enough once you charge it.
White Day Light System
As the technology is getting advanced we are also bringing a change to the technology. Our batteries provide white day light system which gives proper focus in darker areas as the white light is more preferred. It hits the target on a perfect spot to explore in dark. It has become one of the top preference amongst people who once used it.
There is no way of looking back to any other torches because it is considered as best and trustworthy by all our buyers and we have tested all our batteries and we have also succeeded by full satisfying results.
Terms & Conditions:
Customer has to pay only postal charges upto Vadodara, Gujarat (to & from) in case of repairing
Any breakage due to rough handling is not covered in Guarantee